Thought this 'Fun Things to Do in Montclair' article from
mommypoppins.com
was terrific!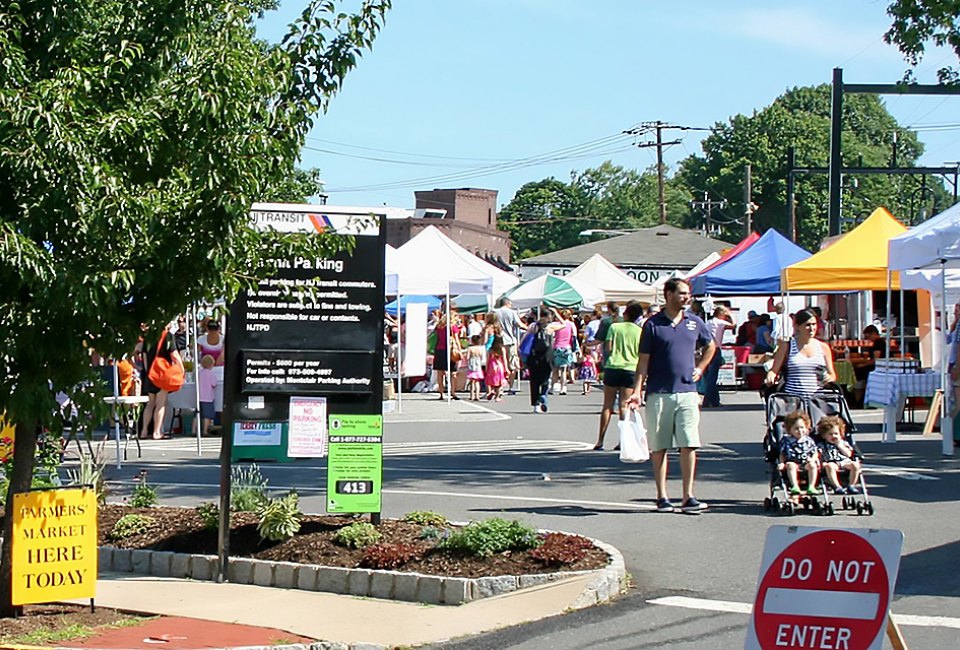 Fun Things To Do with Kids in Montclair, New Jersey
Nestled in Essex County, Montclair is located just 12 miles outside of Manhattan. This walkable suburb is home to Montclair State University, the Presby Iris Gardens, and the Montclair Art Museum, as well as 18 public parks and two nature preserves. From the Upper Montclair shopping area to the Church Street storefronts in Montclair Center, the town's eclectic restaurants and kid-friendly activities make it a fun day trip for families in Northern New Jersey.
Read on for the top places to visit and things to do during your visit.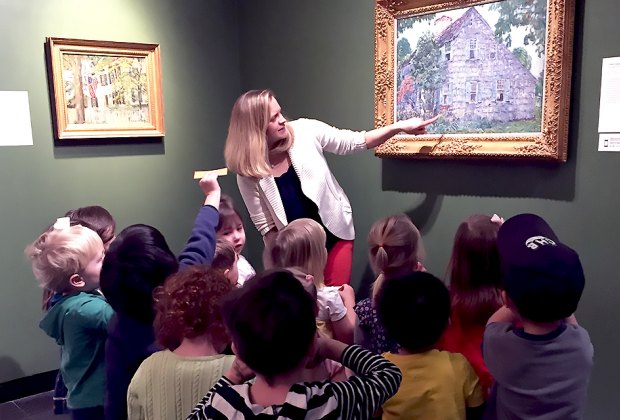 The Montclair Museum of Art has a fantastic variety of programs and activities for children. Photo courtesy of MAM
Montclair Art Museum
Currently exhibiting Inspired by Matisse: Selected Works From the Collection, Montclair Art Museum (better known as MAM) hosts a variety of family programs throughout the year. At monthly Park Bench events, kids can tour the museum, hear stories, work on art projects, and nosh on refreshments. There are also Sunday studio drop-ins, Thursday drop-ins for teens, and monthly Home School Days and Family Art Adventures. At MAM's Family Learning Lab, located on the third floor, visitors are invited to experience and learn about exhibitions through hands-on art activities and creative-thinking projects. Hours: Wednesdays through Sundays, noon – 5pm.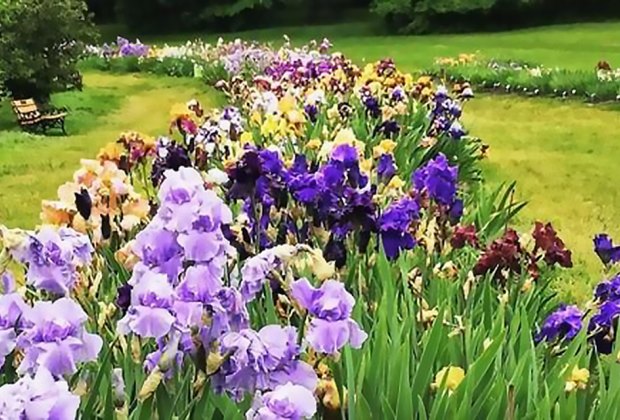 The Presby Memorial Iris Gardens are a beautiful sight in spring. Photo courtesy of the Gardens
Presby Memorial Iris Gardens
Each spring, flower lovers assemble in Montclair's Presby Memorial Iris Gardens for a peek at the annual bloom. With more than 3,000 irises dotting the landscape, the grounds are an ideal place for a peaceful day among local artists and photographers. This Essex County park also offers family-friendly off-season events, including the pumpkin-themed Gardens Aglow and summer movie screenings. The gardens are open from dawn to dusk during bloom season, typically mid-May through the first week of June.
RELATED: 40 Fun Things To Do in Hoboken with Kids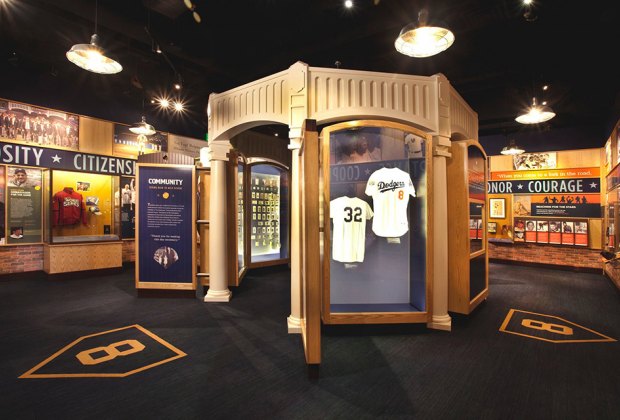 Sports fans will be thrilled to view the amazing collection of baseball memorabilia at the Yogi Berra Museum and Learning Center. Photo courtesy of the museum
Yogi Berra Museum and Learning Center
Yogi Berra Museum and Learning Center, located on the Montclair State University campus, has become a popular destination for sports fans and educators. Offering a mixture of baseball memorabilia and a look at Yogi's extraordinary life values, this isn't your typical sports museum. The YBMLC has created programs that foster literacy, integrity, social justice, sportsmanship, and dedication in all aspects of life. Hours: Wednesdays through Sundays, noon – 5pm.
New Jersey Jackals
During baseball season, catch a minor league New Jersey Jackals game at Yogi Berra Stadium, located next door to the museum. The stadium is very family-friendly. Kids can high-five team mascot Jack the Jackal as he walks around, and after certain games, they can also run the bases and see a fireworks show. There's a Kids Zone with a bounce house and pitching games, and a grassy field behind the outfield where antsy little ones can run around and try to catch home runs.
The Wellmont Theatre
Located in Montclair Center, just off Bloomfield Avenue, The Wellmont underwent renovations in 2008. This historic theater, originally opened in 1922, now hosts popular music and comedy shows. Though most acts are more appropriate for teens, there are occasional kid-friendly performances, too.
Montclair Public Library
The library hosts various events for families, including family storytimes and pajama storytimes. Special events include occasional author visits, movies, and seasonal crafts.
Montclair Farmers' Market
Set up next to the Walnut Street train station, the Montclair Farmers' Market is open Saturdays from 8am to 2pm from roughly June to November. This social marketplace is home to dozens of food and drink artisans, including Shore Catch, Tassot Apiaries, and Ventimiglia Vineyard. Check out the locally grown fruits and vegetables, fresh cheese, and pickle bar.
Montclair Fine Arts
Montclair is home to several fine-art galleries, and most are free and open to the public. While strolling around town, take a moment to visit BrassWorks on Grove, Gallery 51, Gallery Loupe, 73 See Gallery, and Studio Montclair's Block Gallery. Call ahead for hours of operation.
Montclair Film Festival
Created to nurture and showcase the talents of filmmakers from around the world, the Montclair Film Festival has been a hit with the community since its inception in 2012. It continues to offer first-rate screenings and symposiums during its signature annual event each April/May. The organization also holds programs throughout the year, including screenings at its own 505 Cinema. For older kids, there are Slam My Story! live storytelling performances for high schoolers, an Emerging Filmmaker Competition for 6th to 12th graders, and a 505 Films + Friends Club for teens.
Montclair Historical Society
The Montclair Historical Society oversees the Crane House and Historic YWCA, Nathaniel Crane House, Clark House and Library, and Charles Schultz House. These historic buildings are open for public tours and other special events throughout the year. Kids will enjoy family programs that include crafts, scavenger hunts, and even lessons on how to cook over a hearth. Call ahead for times and tour information.
Montclair Parks & Recreation
Montclair has more than 175 acres of open space. With close to 20 public parks, the town offers something for everyone. Highlights include Brookdale's large dog park, playground, and many sports facilities; Edgemont's playground and weather-permitting ice skating pond; and hiking trails with scenic New York City views from Eagle Rock Reservation, which lies on the Montclair-Verona-West Orange border. Many of these public spaces host seasonal events, including a Fourth of July Parade, summer movies and concerts, and the popular Montclair Jazz Festival in August. For a complete listing of parks and services, visit the Essex County Parks System website.
Ice skating at Clary Anderson Arena and Floyd Hall Arena
When it's too warm to skate at Edgemont Park, head indoors to either Clary Anderson Arena or Floyd Hall Arena. Both facilities have a snack bar, skate rentals, and lockers. Floyd Hall, on the campus of Montclair State University, is larger, with two rinks; Clary Anderson has one rink. Call to check the schedules for weekly public sessions.
RELATED: The Best Museums for Kids in Northern New Jersey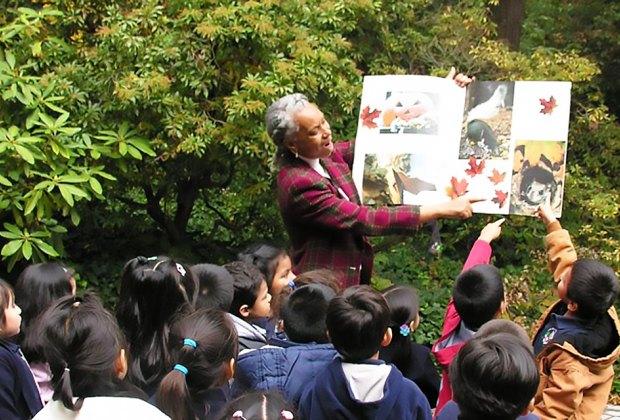 Take advantage of the programs and activities for kids at Van Vleck House and Gardens. Photo courtesy of the gardens
Van Vleck House and Gardens
This once-private villa is now open to the public year-round. It's free to roam the almost six acres of landscaped gardens. Take an afternoon to explore the property's natural beauty, and enjoy something new with every season. The estate also offers outdoor adventures and gardening programs for kids. In addition, there are guided family hikes, programs about butterflies and birds, an ongoing concert series, and other special events.
East Side Mags
The world of comics can be a little daunting, but you don't have to be up on the latest anime to enjoy East Side Mags. Introduce your kids to comic books with their favorite super heroes such as Spider-Man, or silly heroes like Daffy Duck and Scooby-Doo. If you need some guidance, a helpful staff member can point you in the right direction. Pokemon and other trading cards are also available, as are comic-themed toys.
Just Kidding Around
This New Jersey outpost of the flagship Kidding Around store in New York City sells toys that are a step up from those at your run-of-the-mill chains. You'll find wooden toys, musical instruments, marble runs, craft kits, board games, plush items, creative play sets, outdoor toys, books, and more. Fun backpacks, jewelry, umbrellas, and other accessories that kids love are also available. The staff is knowledgeable and helpful if you're searching for the ideal gift.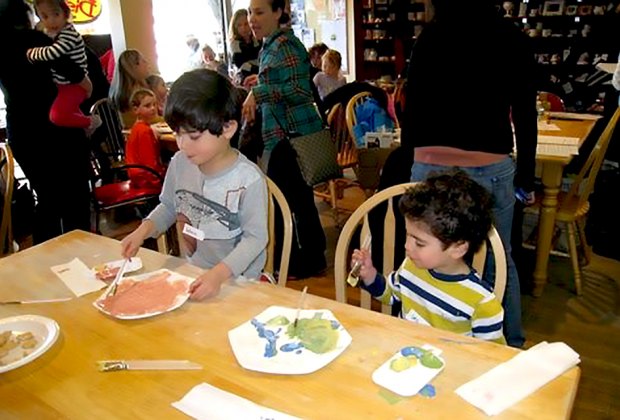 Get ready to make some unique pottery at Doin' Dishes. Photo courtesy of Doin' Dishes
Doin' Dishes
Get creative with some pottery painting. Choose your piece from an array of more than 150 pre-crafted ceramic items—from jars and decorative objects to cups and dishes—then select a paint palette. Use various-sized brushes, sponges, stencils, and stamps to decorate your work. If you're a day-tripper, be advised that it takes one week for the shop to glaze and fire your work before the final product is ready for pickup.
RELATED: 20 Best Things To Do with Tweens in New Jersey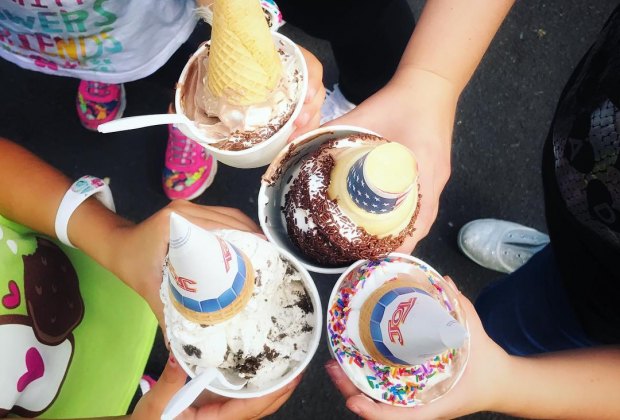 Grab an ice cream with friends at Applegate Farm. Photo courtesy of Applegate Farm
Eats and Treats
Kid-friendly dining is easy to come by in Montclair. Bareburger (burgers), Tinga (Mexican), and Ah' Pizz (pizza) cover the basics. Head to Raymond's for accessible bistro fare in a lively environment, and while you're there, grab a hot chocolate that's topped off with a giant homemade marshmallow. For a quick and healthy snack, stop in to Playa Bowls, which makes smoothies and smoothie bowls topped with granola, fruit, and even Nutella.
If you want to skip right to dessert, head to Applegate Farm, which sells its ice cream from a bright-red roadside barn. Pick up some handcrafted chocolate or other candy at Chocolate Works, where you can also sign up for a chocolate-making workshop. And doughnuts aren't just for breakfast at Montclair Bread Co.; check out the shop's inventive recipes any time of day.
Top Photo Montclair Farmer's Market
Originally published 2012; updated January 2018. From mommypoppins.com